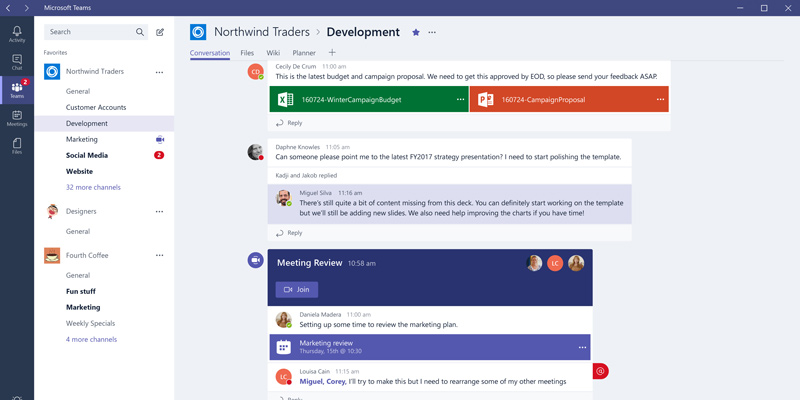 Is Teams Microsoft's Sleeper Hit?
by
| September 24, 2019 | in
Microsoft has built a lot of products that many of us use every day: Windows, Office, Visual Studio, Azure, and Xbox. They've all been hits, but there's one product that is quickly building steam and I expect will become their next big success story: Microsoft Teams.
A few years ago, it felt like everyone was using Slack; it quickly became the standard for intra-company communication. Even here at Don't Panic Labs, Slack was our de facto way of communicating with our team. But in what seems like a major (and overnight) turnaround, Teams is now bigger than Slack. With over 19 million weekly active users, Teams is turning into the big dog in this space. It feels like almost everyone we work with is using Teams in their organization, leading to the common refrain of "your Teams or ours?"
Teams provides a lot of what we need for internal communication, and not just the text-based chat. It also handles video conferencing very well. And with the ability to schedule a Teams meeting from within Outlook, we have a very cohesive experience.
The notion of multiple groups (called teams) is great for us at Don't Panic Labs since we create a new team for every project. This allows us to keep all project-specific communication grouped together. Microsoft has really nailed this segmenting by keeping associated files and wiki/OneNote notebooks with the team together too. This makes Teams the one-stop-shop for all information for all of our projects.
Just like any software platform, Teams isn't a perfect solution; something that should go without saying because nothing is perfect and improvements can always be made. But I say this because some strange behaviors show up once in a while and they're often tough to re-create. And when it comes to missing features, probably the biggest place where Teams misses the boat is the ability to switch between Teams (what I like to call the "your Teams or mine" problem). It's a slow and awkward process. But I'm confident that Microsoft will continue to polish up this app and buff out some of its rough edges.
Are you using Teams yet? What do you like? What drives you nuts? Sound off below or share your thoughts with me on Twitter.