Recruiting, hiring, and retaining employees takes time and effort. Finding and keeping those great "culture fits" is costly and time-consuming. Providing opportunities for professional growth is a powerful way to demonstrate commitment to your employees while also meeting your business goals.
Our pathways meet the needs of organizations wanting to grow their software development teams or expand the skills of existing employees.
Powered by a partnership with Doane University, our proven process delivers educational experiences for all levels, from novices with no technology background to seasoned developers who want to keep growing.

Don't Panic Labs works with you to identify participants and assess their readiness
Selected participants join cohort and learn modern software development
Participants rejoin your organization with modern software development skills
Have more questions?
Ready to sign up?
Drop us a line, and we'll be in touch.
Which Pathway is right for you?
Our pathway programs are designed for organizations needing to grow their software development skills and provide new career opportunities to their existing employees.
Talent OptimizatioN
What if the development talent you're looking for is already part of your organization?
The Talent Optimization pathway prepares participants already employed by sponsor organizations to be productive entry-level software developers. This program is a great way to retain culture fits and enable them to contribute in new and exciting ways.
Talent Discovery
The development talent you're seeking can be found right in your own backyard.
The Talent Discovery pathway identifies high-quality participants in your community who are seeking a career change and prepares them to be productive entry-level software developers. This program is a great way to bring unique and undiscovered talent to your organization.
Talent Transition
Imagine preparing your developers for modern software development in just 15 weeks.
The Talent Transition pathway levels up your existing developers by equipping them with the knowledge and skills required for modern software development. This program is great for developers who typically work with legacy technologies like COBOL.
Talent Elevation
What if you could equip your developers with the skills necessary for modern software engineering in just ten weeks?
The Talent Elevation pathway is designed for developers with little or no professional experience. This program is great for recent graduates who need exposure to modern agile methods and best practices.
A Pathway for every need
Every organization is at a different place along its talent recruitment journey. Our four pathways cover what most teams need today.
Check out our Education FAQs for more information.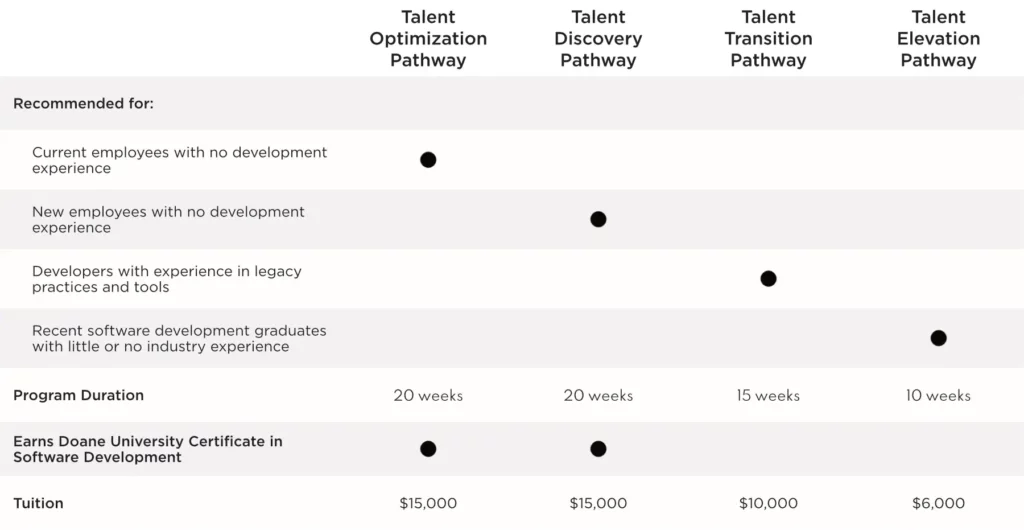 We help human resource and hiring managers
Imagine reducing the burden on your Human Resources and Talent Acquisition staff while improving retention, increasing diversity, and demonstrating your organization's community support.
Don't Panic Lab pathway programs are a proven way to grow software development teams with qualified talent.
Download our Talent Acquisition packet to learn more about how we can help your hiring and retention.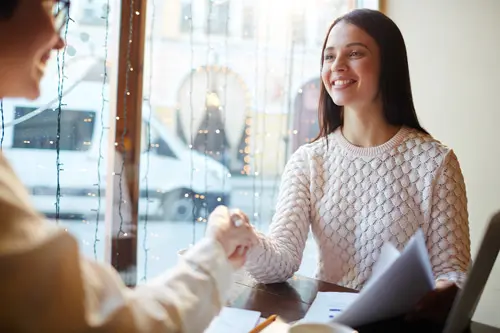 A rewarding experience
We provide an effective way to retain your great "culture fits" through opportunities to grow in software development roles.
Hear what graduates of our spring 2023 cohort had to say.
Stay in touch
Sign up today to receive regular updates about how we are helping grow qualified tech talent for your organization.
Frequently Asked Questions