Don't Panic Labs brings every innovator's vision to life.
A disciplined engineering approach is essential when creating software products that withstand change. Our team of software engineers, architects, designers, and project integrators has been partnering with organizations of all sizes since 2010 to create new software products and transform development teams.
Don't Panic Labs is recognized as one of the Best Places to Work in Lincoln! This award is sponsored by Woods & Aitken, The Lincoln Journal Star, and the Lincoln Human Resource Management Association.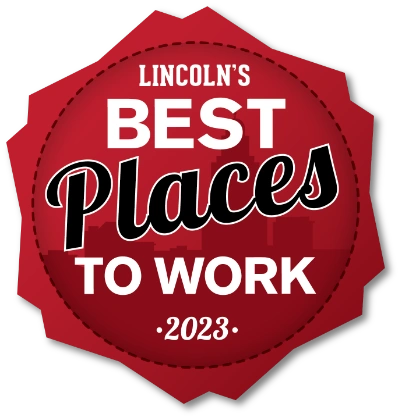 Our Values
"Our values are not an aspirational version of ourselves but instead who we are when we are at our best. These are the things we celebrate, and the true measure of individual and organizational success."

Doug Durham, Don't Panic Labs CEO Empathize, Then Own It
Everything we do starts by walking in the shoes of others. By starting with their perspectives and feelings, we gain the context to join them on the journey and commit to the outcome as much as — if not more than — them. Build Smart
It is our nature to be thoughtful, insightful, and creative when approaching challenges. Our effort seeks not just to make something work but provide innovative solutions that embrace future change. Deliver with pride
When we are at our best, we are proud to deliver on the shared outcomes we have envisioned with our partners. Be the change you seek
Don't Panic Labs was built, and exists, in order to overcome the challenges we see in our industry and our community. To realize our potential, we need everyone to be engaged in continually creating the change that makes our company, our products, and our community a better place.
benefits
Our work is an important part of our lives, but it's far from the only part.
That is why we make sure to include generous extras that help to make life a bit more manageable…and fun!
Affordable health insurance
Physical and mental wellness is important to us. We make sure that our team has affordable access to providers in our area while keeping out-of-pocket expenses as low as possible.
HSA Contributions
In addition to your low cost of monthly health insurance premiums, we provide company-matched contributions to your health savings accounts.
Student Loan/529 Savings Contribution
If you have student loans or are saving for your child's college, we make monthly contributions to your loans or your 529 savings accounts.
Retirement Contributions
Planning for your future is crucial. We make it easy to sign up, contribute, and grow your retirement. Plus, we'll contribute to your plan regardless of whether you kick in anything.
Hybrid work
Our hybrid environment means you can work from our office (while enjoying free food and drink) or from home (or wherever you're most comfortable).
Mac or PC: It's your choice
We believe there is no "one size fits all" in productivity, so you choose which platform enables you to do your best work. Whether Dell or Apple, we purchase the top-of-the-line notebook that can become yours to keep after one year.
Company Outings
Top Golf, weekend campouts, private pool parties…we love to take well-earned breaks from our daily work. We also have several tickets available for Husker football, basketball, and volleyball games.
Paid Time Off
Our paid time off (PTO) policy is as straightforward as possible. All new team members begin with four weeks of PTO. Use it for anything that takes you away longer than half a day. We don't sweat it when you need an hour or two off when things come up; simply communicate with your team.
And since the end of the year can be a busy time, we close our office between Christmas and New Year's so you can spend time with your family and friends.
Time off for new parents
We celebrate every new addition to the Don't Panic Labs family, and we want to make sure you have plenty of time to spend with them too. Our generous parental leave helps your new (or growing) family during these exciting times.
Close to where it's all happening
Our office is in the heart of downtown Lincoln, Nebraska. There's no shortage of lunch options; we're within short walking distance of many local restaurants. And don't worry about parking; we pay for your garage pass.
Opportunities for professional growth
Our industry is constantly changing, so we prepare our team for what lies ahead. From our weekly software engineering seminars to our own online coursework, we ensure our skills stay up to date. If there's a particular area of interest you'd like to teach others about, we give you the floor to share what you've learned.
Staying Active
Physical health is important to us. If you enjoy running, we sponsor a Market to Market Relay team and have groups that run during the noon hour. If you are a cyclist, we provide bike storage during the day. If you enjoy golf, you're in good company here. And if you just enjoy working out, we'll cover your membership to the University of Nebraska-Lincoln Campus Recreation Center.
Software Engineering Intern (Summer 2024)

An internship at Don't Panic Labs is an opportunity to experience engineering-focused software product development in a fun and supportive environment.

This is no ordinary internship. Interns work alongside our team and our clients, which means they must be able to articulate their ideas clearly and thoughtfully. Our team has the freedom to work the way that best fits their strengths, so there's little supervision. Interns must be self-starters to succeed.

Our team is constantly learning because the industry is always changing. Interns learn alongside our software engineers, architects, and designers. We provide all the tools needed to "build smart"; it's an intern's responsibility to bring their tenacity and desire to learn.

Applications will be accepted through Sunday, October 8, 2023 (11:59PM CT).

Senior Software Engineer

Our Senior Software Engineers are proficient in the detailed design of common software systems and behaviors. They can efficiently set up new projects and extend existing systems. Conducting code reviews and researching new technologies and platforms also come with the role.

Excellent communication skills, an ability to lead small development teams, and a passion for mentoring others are all necessary to succeed in this role.

General Application

Don't see a position that fits? We'd like to hear from you anyway!