Another Transition Story: From Desktop to Surface Pro 3
Last week we read Curtis's story of how he transitioned from a desktop Windows machine to a MacBook Pro running Windows in Parallels 10. This week, I'm sharing my story of moving from a similar desktop machine to a Microsoft Surface Pro 3.
Choosing the Hardware
When it came time for me to choose the hardware I would be using every day, I knew I wanted something that would be light and easy to drag around with me. Previously, I owned an HP Pavilion 6 for personal use and whenever I was away from the office. It was large enough to require its own bag so everything else I needed had to be packed in a separate bag. But at the time, it didn't get much better than that. Thankfully, "portable computing" has progressed significantly and is taking the definition of portability to a whole other level.
The size and weight of the Surface Pro 3 allows me to just throw it on the top of my bag and go. I recently went to Florida and found it was way too easy to just hang out by the pool with it and get a little work done.
When it came to configuration, I went with the top of the line model:
Intel Core i7 – 1.7 Ghz
8 GB RAM
512 GB storage
Perhaps choosing the extra 256GB of storage was a bit of an overkill, but I wanted to be sure that I never ran out of space. You can't exactly pop these things open and replace the SSD if you decide you want to upgrade later. You have to plan ahead. This iFixit article shows how easy it isn't to work on the Surface Pro 3s.
For the office, I added the Microsoft Surface Pro 3 docking station. I know that there are less expensive solutions out there, but they required extra cables to deal with every time you plug in. I'd rather have an easy snap in/snap out approach. I really dislike clutter on my desk so between the dock and swapping out a monitor for one that supports display port daisy chaining, I have a nice desk without a ton of wires running everywhere.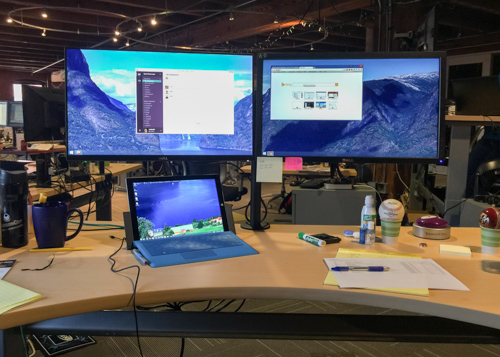 Getting Down to Work and Lessons Learned (So Far)
In the few months that the Surface Pro 3 has been my primary machine, it has exceeded many of my hopes and expectations. One of the biggest benefits I've realized is having the ability to "casually" use the Surface Pro 3 to knock out some less intensive tasks from home while watching Netflix. For being "only" a tablet, the Surface Pro 3 has an amazing amount of power. It doesn't even blink when I multitask with it, and that for me is a clear sign that we have crossed over into a new era of computing.
Another benefit I've realized in using the Surface Pro 3 is note taking. I am the kind of person who retains a lot more information if I write it down while it's being discussed, so the Surface Pen is a must have for me. The ability to take notes without going through reams of paper has become something of a necessity for me.
Sometimes you can't imagine the benefits to being so portable until they present themselves. For example, I once had a technical handoff meeting scheduled with a client and assumed it was going to be held at our offices. But when the calendar reminder popped up five minutes before the meeting, I realized it was actually at the client's offices instead. Fortunately I had my Surface Pro 3 so I was able to just grab it and run out the door. I made it to the meeting on time and was able to take everything I needed for the handoff. No need to use one of the client's computers to VPN back into my computer to show them everything we were discussing.
Initially I didn't know how much I would like a touchscreen on my primary machine. I couldn't see myself reaching up and actually interacting with my display. But despite the fact that it's running full-blown Windows (which I won't think always comes across as touch friendly), I now find myself wanting to touch and drag applications on my non-touch screens too.
As I think back over the past few months I can't say that the Surface Pro 3 has necessarily improved my output, but I do have to give credit to Microsoft. They've built something that is more than capable of replacing a very powerful desktop machine while still allowing me to complete my work almost anywhere.
I am also glad that Microsoft is continuing to improve the experience of the Surface Pro 3 as a desktop alternative. There were a few rough spots I experienced in the first couple of weeks, such as the pen not working consistently or the occasional WiFi dropouts immediately after wake. But I'm happy to report that these seem to be fixed through firmware updates.
However, one downside I still experience is how Windows 8.1 handles screens with varying DPIs. There are different recommended scaling settings for low and high-DPI screens. So when you are using multiple screens with different DPIs, you're forced to choose a scaling setting that is somewhere in the middle. This leaves neither screen at their recommended setting. It's not the end of the world, but you would think that Microsoft would allow you to specify scaling on a per-screen basis instead of making you choose one value to cover everything.
Overall, I would absolutely recommend the Surface Pro 3 to any engineer as an alternative to a standard desktop or notebook computer. The portability of its size, the flexibility of its touchscreen, and its relative amount of power are all undeniable. I know they're not for everyone, but I do recommend at least giving them a test drive. You might be surprised.