3 Things About Our Communitarian of the Month That Will Shock You
This month we are recognizing Paul Bauer. Here are three things Paul had to say about volunteering:
I Met My Wife While Volunteering
Volunteering is a great way to meet quality people and make new friends. I was lucky enough to meet my lovely wife during a volunteering experience in college. I can't promise you the same luck, but you will meet great people!
My Volunteering Matches My Interests
When your volunteer opportunities match your interests, it doesn't feel like volunteering or work. Instead, it's fun. It's an activity you look forward to during a busy week.
Here are some of the things I look forward to:
FIRST LEGO League. In college I received an email asking for "design judges for Lego robots built by 9-16 year olds." I don't think you could present a more exciting sentence to me! This opportunity offers a lot that I'm interested in: robots, Legos, technology, programming, and promoting STEM (science, technology, engineering, and mathematics) to youth.
The Raikes School at UNL. As a graduate myself, I'm very thankful for the opportunities provided by the School and value staying connected and giving back in my small way. As someone in the industry, working with the brilliant young minds there is an energizing and uplifting experience. A big shout-out here to the Design Studio faculty and all the teams I've worked with over the years!
Corporal Works of Mercy. I learned these as a child and re-learned them as an adult. These are the volunteering experiences that sound scary or difficult, but turn out to be the most joyful, rewarding, and humbling experiences of your life. I encourage you to do these hard things. Get past your own fears (what Ted said). I'm confident you'll have a great experience.
Volunteering is a fun bonding experience
If you know everyone at the start of a volunteering experience, chances are you'll know them a little bit better at the end.
As Nebraska Global has grown it has become hard to get to know, really know, everyone (what Nick said). Volunteering is a great opportunity to spend time with people I don't really know, or catch up with people I haven't spent much time with recently. Whether it's sitting next to someone at a blood drive, sorting food, or setting up the most efficient assembly line possible (something Nebraska Global engineers volunteers are known for), I'm talking to, joking with, and getting to know the person beside me.
I'm lucky enough to work at a place that encourages volunteering, making it easier to have such opportunities. Thanks Nebraska Global!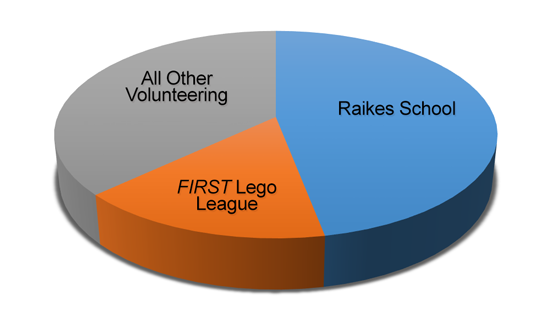 Since joining the Don't Panic Labs team, Paul has volunteered for these organizations: Boys & Girls Club, CEDARS Youth Services, Center for People in Need, City Impact, Code Camp, FBLA (Future Business Leaders of America), FIRST Lego League, Friendship Home, Knights of Columbus, Lincoln Children's Museum, Lincoln Children's Zoo, Lincoln Food Bank, Lincoln Public Schools, Nebraska Community Blood Bank, People's City Mission, Raikes School, Salvation Army, TeamMates Mentor Match Project, University of Nebraska-Lincoln, and Volunteer Partners.