Branden Barber – Communitarian of the Month
This month we are recognizing engineer Branden Barber. Here's what he told us when we asked about his volunteer experiences.
We should also note that Branden's been volunteering with Don't Panic Labs even before he was a full-time employee. Here's a video that includes Branden spending time at the Boys & Girls Club as an intern in 2011.
Why do you volunteer?
I enjoy giving back to the community and making Lincoln a better place to live. It can also be a lot of fun to do things that you don't normally do day-to-day. Volunteering is always a good use of time, and helps provide a better perspective of the world we live in.
What do you enjoy most about volunteering? A favorite memory?
I like making a difference and having fun so it's great to get to do both at the same time. One of my favorite memories is from when I was volunteering at the Food Bank of Lincoln. A few of us got into a debate over whether certain canned items were fruits or vegetables. I know, it doesn't sound that memorable. Maybe you needed to be there.
I work with many people that have good senses of humor so having fun is easy.
How has your volunteer experience impacted your workplace?
It's a great bonding activity where I get to know my co-workers better. I also get to work with people I don't see every day since DPL keeps growing and the office space is more spread out. And we always come back to the office with great stories that we laugh about later.
What have you learned while volunteering?
While volunteering, I've learned how much our time and effort means to the local organizations. They often tell us how much they appreciate our work, and are happy whenever we schedule our next outing. It's usually just a few hours of our time, but it makes a bigger difference than we sometimes realize.
Do you have any advice for other volunteers or people who want to get involved?
When looking to get involved, find something you're passionate about. There are so many different places to get involved with that it's pretty easy to find one that's within an area of interest. Even if you don't find one, nearly any nonprofit would be more than happy to accept some quality volunteering.
There are a lot of people who would volunteer during regular work hours if it were allowed by their employers. We're very fortunate to have this perk. It would be cool if this wasn't such a rare occurrence. Investing in our communities is something that every business should get behind.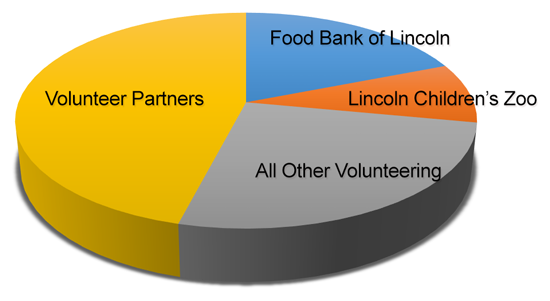 Since joining the Don't Panic Labs team, Branden has volunteered for these organizations: Boys & Girls Club, Center for People in Need, Food Bank of Lincoln, Friendship Home, Lincoln Children's Zoo, Nebraska Community Blood Bank, TeamMates Design Studio Project, and Volunteer Partners.