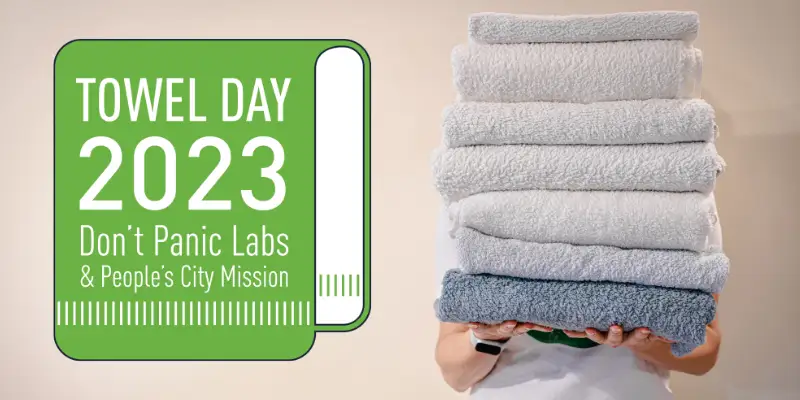 Don't Panic Labs Announces Its 2023 Towel Drive for People's City Mission
Local software design and engineering company Don't Panic Labs is excited to announce the return of its annual towel drive for Lincoln's People's City Mission.
From May 15th to May 26th, Don't Panic Labs is encouraging all of Lincoln to donate towels of any condition for use at the Mission's shelter in Lincoln. Towels are always in short supply, and the donations serve a vital need.
The public is encouraged to drop off towels at any of these collection sites:
ALLO – 330 S 21st Street
Don't Panic Labs – 1317 Q Street, Suite 150
Good Life Fitness – 300 Speedway Cir & 8601 Amber Hill Ct
Nebraska Innovation Campus / The Mill Coffee & Bistro – 2021 Transformation Drive
People's City Mission Help Center – 6800 P Street
People's City Mission Shelter – 110 Q Street
Wax Buffalo – 4723 Prescott Ave
Zipline Beer Hall – 5740 Hidcote Dr, Suite B
Ameritas, City of Lincoln Information Services, Olsson, and PenLink are participating as private collection sites so their employees can easily donate. Nelnet hosted a special collection event in March for their team. The PTOs of Adams Elementary, Kooser Elementary, and Schoo Middle School, and the NHS of North Star High School, are coordinating collection barrels so students and their families can participate. The Air National Guard and Army National Guard are hosting collection barrels on base for their airmen and soldiers. Lastly, Pine Lake Heights is participating so its residents can donate.
The towel drive idea was inspired by the internationally recognized Towel Day, which is celebrated every May 25 in honor of the late author Douglas Adams. The company's name was inspired by Adams' best-known novel, The Hitchhiker's Guide to the Galaxy, where the words "Don't Panic" are printed on the Guide's cover. "A towel," according to the book, "is about the most massively useful thing an interstellar hitchhiker can have."
Don't Panic Labs will share the final donation counts in the week following the drive.
Monetary donations are also accepted online. Visit dontpaniclabs.com/towelday for more information.