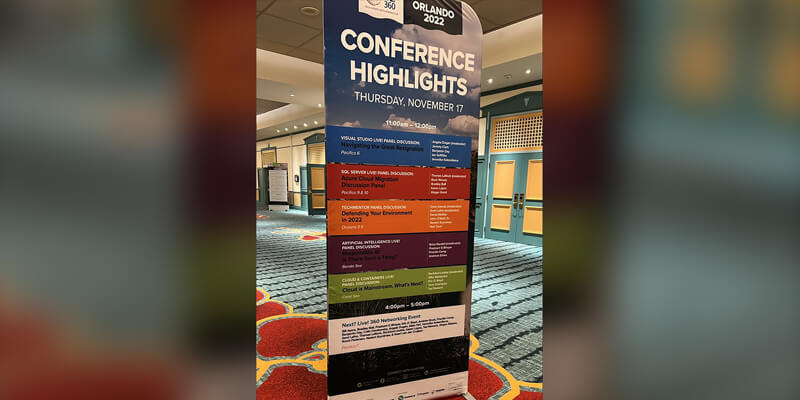 Visual Studio Live – Orlando
by
| November 23, 2022 | in
Some of our Don't Panic Labs team attended Live 360 (which included Visual Studio Live) in Orlando last week. I've never had the opportunity to participate in a Visual Studio Live conference before, so I was pretty excited to check it out. While we were there to exhibit Tenzing, our new business alignment platform, I was able to sneak away and attend a few sessions.
The attendance was pretty good. There were many people, but not so many that you felt overwhelmed.
As an aside, Orlando is an excellent place for a conference – especially when it's held at Universal Studios. Having a conference at a tourist location ensured it was full of good food options; we didn't feel captive.
The conference was full of many sessions, ranging from SQL Server to technical leadership.
Given that .NET 7 was just released, various sessions were on .NET and the most recent update. Part of the .NET story was .NET MAUI, which gives developers the ability to run .NET applications on Windows, MAC, iOS, and Android. And as of this writing, getting started with MAUI is pretty straightforward (I had MAUI up and running at the conference). MAUI feels like coming back home for someone who has written a lot of WPF.
My favorite sessions were on technical leadership. Philip Japikse gave a great keynote on technical leadership. I enjoyed his presentation, which was my favorite of the entire conference.
Visual Studio Live was a great conference. I recommend attending if you ever have the chance.
Did you attend Live 360 last week? If so, what do you enjoy most? Sound off in the comments below.