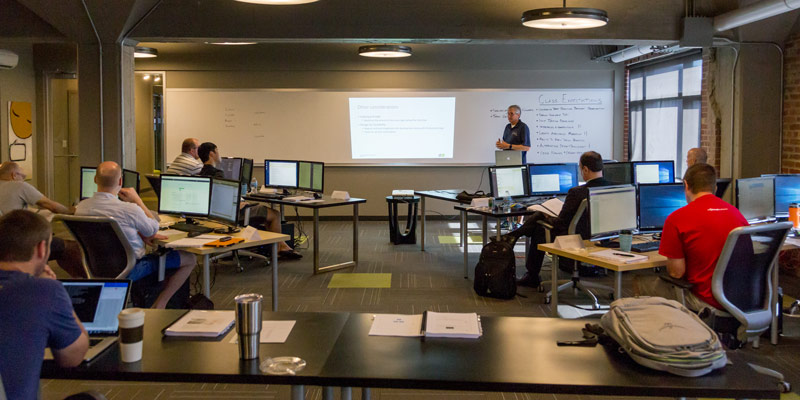 Design and Development Clinic Review – April 2019
Doug Durham and I recently completed another Software Design and Development Clinic. This week-long set of classes is designed to help level up software developers into senior developers.
For us leading the classes, the week is always exhausting but they're still one of my favorite weeks of the year. Leading even a small group of developers eager to reach the next level of professional development requires a lot of focus. We want to make sure we're giving our A-Game during each lecture and when we're working one-on-one with the students. Keeping up with even a small group can be a challenge.
Each clinic we conduct is unique, as we begin by asking what the students want to get out of the week. This question allows us to focus a little more on areas the students are interested in.
This most recent class focused quite a bit on software design, leading us to speak at a higher level than many of our past clinics. With the focus on the why's of software design, we got to delve into some more in-depth questions and discussions. While it was intense, it was also a lot of fun.
Doug and I are always on the lookout for ways to improve the clinics, so we try to note any big takeaways after the week is over. This time, we identified that we want to get better at interspersing activities throughout the week. While we do a pretty good job at getting to a 50/50 blend of activities and lectures, we believe we can improve the spacing between the two to prevent any really long blocks of Doug and I talking. Additionally, we think adding more small activities could help keep things fresh.
Another big takeaway from this most recent clinic is there seems to be quite a bit of interest in other workshops. We are considering adding shorter and more specialized clinics that cover such topics as Azure / Dev Ops.
Does this sound interesting to you? If so, contact me at cmichel@dontpaniclabs.com or ping me on Twitter at @chadmichel.