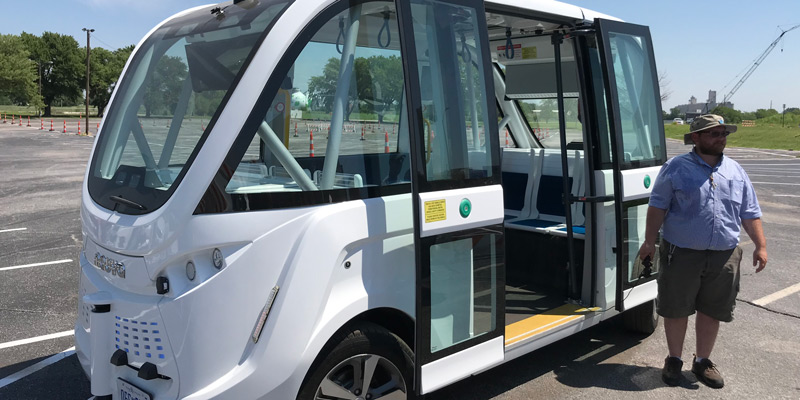 A Ride into the Future
Yesterday, I took a ride into the future.
No, I wasn't on board a time machine. I participated in a public demonstration of a self-driving shuttle in the parking lot at Nebraska Innovation Campus.
The electric-powered shuttle, built by French company Navya, holds up to 15 passengers (although I only counted 11 seats) and looks like a rounded box with wheels.
This demo was made possible by a $100,000 grant to the City of Lincoln by Bloomberg Philanthropies. Input gathered from the community will help guide the city's application for a $1 million (or even $5 million) Bloomberg grant later this year. Only four cities (of total 35 that received the initial $100,000 grant) will receive the larger grants to fund the production of up to six autonomous shuttles. If Lincoln were to get them, we could see them scurrying around downtown as soon as next year.
So, what was the ride like?
Well, I ended up scheduling my ride for one of the more brutally hot days of the summer (so far). Normally that wouldn't have been so bad, but the shuttle's air conditioner was broken. The operator riding along with us said that we could either have cool air or have a waterfall from the condensation. After a few minutes in the shuttle, the waterfall didn't sound so bad.
But temperature aside, the ride was as I expected: boring.
I don't mean that in a bad way – I expect my public transportation experiences to be uneventful. While the concept-in-practice of autonomous vehicles is very exciting, the actual ride is similar to any other public transport and isn't that how it should be? It goes. It stops. It opens its doors.
It's a utility, not a theme park ride.
Our operator – an employee of Navya – likened these shuttles to a light rail system without the infrastructure. And that's exactly how it felt.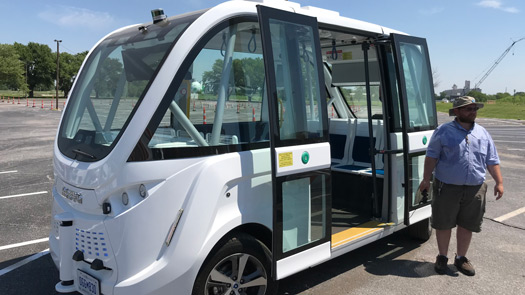 While these shuttles are small (especially when compared to the full-size buses we see around town), they seem very practical for the tight fits of urban environments.
When it comes to the guidance systems, we were told that these shuttles are guided mainly from satellite data and that their location was accurate to about 2-3 centimeters. This is not your average smartphone GPS; we're talking military-grade tech here. They also have cameras and laser sensors to handle the orientation of the vehicle and for avoiding obstacles.
I never sensed any hesitation from the vehicle and it performed its preprogrammed path smoothly and confidently. I suppose I would have been more impressed if we had taken it out into normal traffic to experience how it would respond, but it was exciting to see it perfectly centered in the designated "lanes" of the parking lot and stopping at a faux bus stop. Its precision was evident by the rail-like dirt tracks it had impacted on the lot over the past week.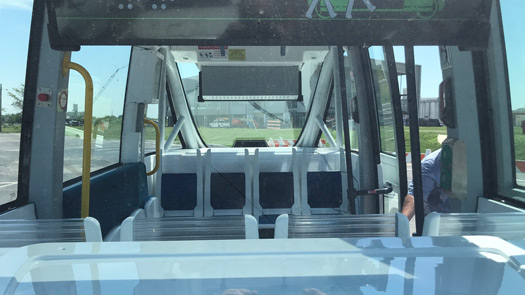 Will I take the shuttles around downtown if Lincoln scores one of the big grants? Absolutely! I love our downtown area, but sometimes parking is a hassle I'd rather not deal with. Plus, it would give me some sweet bragging rights.
Look ma, I'm living in the future!