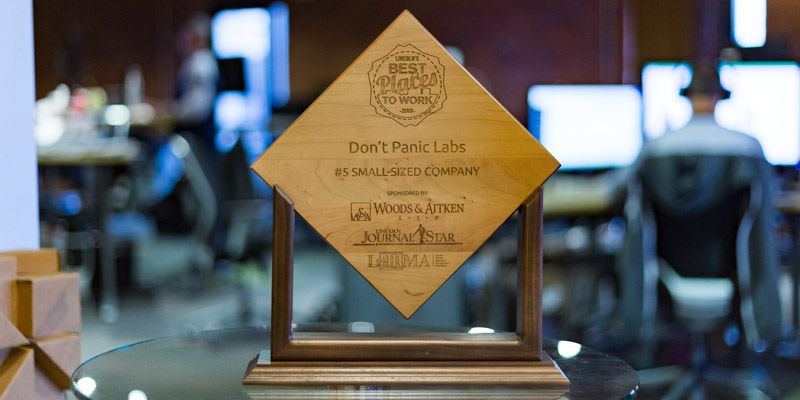 Don't Panic Labs Named A 2018 "Best Place To Work" In Lincoln
Software design and engineering firm Don't Panic Labs was recognized as one of Lincoln's Best Places to Work at an award luncheon on April 19th at the Cornhusker Hotel. The company was recognized in the Small company category by Woods & Aitken LLP, the Lincoln Journal Star, and the Lincoln Human Resource Management Association, founders of the Best Places to Work in Lincoln list.
The Best Places to Work in Lincoln program, which was started in 2013, recognizes local companies who, through a third party administered employee survey, rank their respective companies as being the best places to work. The areas surveyed are varied parts of employee life, including workplace environment, leadership direction, culture, and management practices.
"The whole team is humbled with this recognition," said CTO and co-founder Doug Durham. "We believe this serves as a testament to the type of culture we set out to create: one where each team member has a say in creating the type of environment they want to work in, as well as being entrusted with the success of not only our company but also that of our partners and customers."