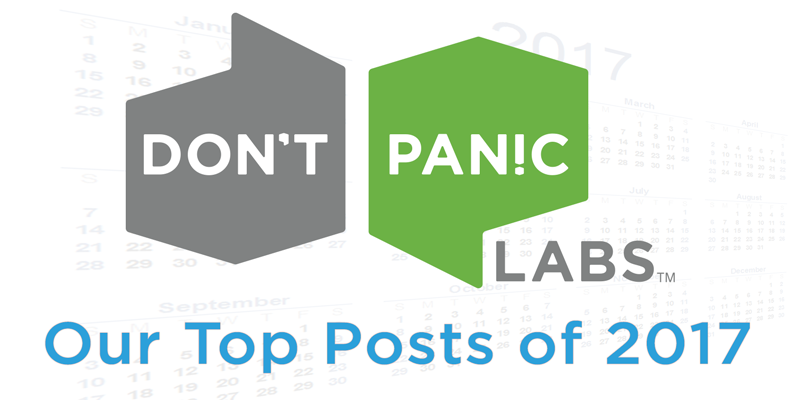 Our Top Posts of 2017
by
| December 27, 2017 | in
The end of the year is a few days away and I don't think I'm alone when I say that this year flew by pretty darn quick. It's also time for another end-of-year "Top 10" list.
I am again blown away by how this team does such a fantastic job in sharing what they're learning and/or wanting to share with the rest of the world. At the same time, they made it difficult to limit this list to 10 posts.
In no particular order, here is what we felt were the 10 best posts of 2017. We are too close to be an objective judge, so let us in the comments section what you enjoyed reading this year.
An Innovator's Reading List – There are numerous studies showing that effective leaders read A LOT. With that in mind, Brian pulled together a list of books and websites that he believes are essential reading for innovators in all types of environments.
How to "CATCH" an MVP – Barely a month after Krista Odbert joined the Don't Panic Labs team as a project manager, she sent me her first draft of this post. Major points for nailing what product owners (or anyone involved in new projects) need to consider along the way. Bonus points for making an acronym of her approach.
Falling Short on Training Software Developers – If you have ever met Doug Durham, it's hard to miss his passion for great software architecture and educating future software engineers. In this post, he lays out what we're missing and what can be done to level up our developers of all experience levels so they can tackle the difficult problems that lie ahead.
Tools are Just Part of the Story – While our engineers have their set of tools they typically rely on, it's our guiding principles that really affect and differentiate how we tackle projects. Tony Wilsman writes about one such experience in this post.
Just Roll With It: An Unconventional Intern Story – We appreciate all of our interns. They bring new insights to our team and we like to think they're learning from us too. While most interns work alongside our software engineers, we also have business interns who are exposed to a varied set of tasks and projects. One such intern was Cat Nyberg who graciously wrote about her time with Nebraska Global and Don't Panic Labs.
Removing Friction – We've all had those shopping experiences that were…well…less than ideal. That's what happened to Brian Zimmer, but he compares that experience with teams and their ability to reach specific goals.
Protecting Master Branches with Policies in Visual Studio Online – Software Architect Andy Unterseher shares how the team uses Visual Studio policies to help ensure the best possible code is produced.
7 Years Later: A Reflection on Nebraska Global – Quite a bit has happened since Nebraska Global and Don't Panic Labs were launched in the spring of 2010. Doug looks back at the whys, the hows, and what's nexts.
Fun Through the Years – Highly productive work environments can also be fun. Chad Michel looks back at seven years of pranks, strange office visitors, and eating contests.
Building an App for Good: Intern Experiences with NativeScript and Firebase – Interns Luke Farritor, Noah Costello, and Allie Rauner show off some of the technologies they used to create the MyLNK app to assist families in need right here in Lincoln. Check out Silicon Prairie News' article about it.