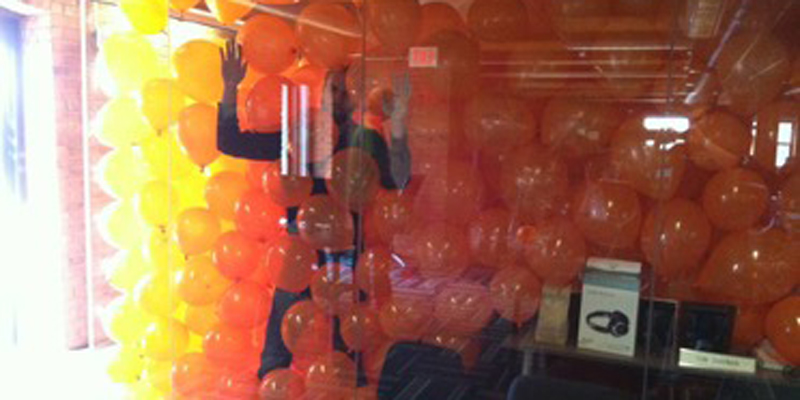 Fun Through The Years
by
| August 10, 2017 | in
We have had a lot of fun since 2010 (when both Nebraska Global and Don't Panic Labs were founded). This fun has always extended beyond just the Don't Panic team. If you've ever been around Nebraska Global, you know we're like one big family. We're just a bit more spread out these days.
We have always focused on keeping an enjoyable and positive work setting. Since we spend a lot of our time away from our families when we are at work, we want to make it the best environment we can.
We moved into our Haymarket building in late 2010, but it wasn't without some challenges – especially when we found we weren't the only inhabitants of our floor. One morning we found that our friendly neighborhood bats liked the warmth of our PCs. Some people may not find this "fun", but it was at least interesting.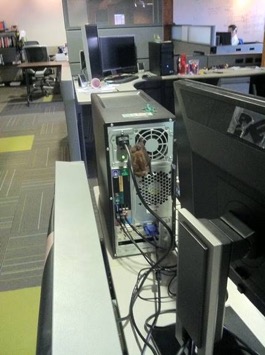 That wasn't the only time we had animals around the office. One day we were visited by John Chapo, president of the Lincoln Children's Zoo, who introduced us to Fez the armadillo.
We enjoy food challenges. When some of the team were working on Beehive, we liked to see how many donuts one person could eat in five minutes. While Doug successfully completed our 5 in 5 challenge, Santi upped the game by completing a 6 in 5 challenge. And note that these aren't the wimpy Krispy Kreme variety; these are the monstrous Lamar's glazed donuts.
https://youtu.be/kfibAAuGTFo
But probably some of my favorite memories involve the pranks.
And I can't talk about pranks without mentioning all the cheeseballing that went on. This type of prank goes back to our pre-Haymarket days when we'd trick an unsuspecting victim into spilling this puffed cheese snack. We don't stock them in the kitchen anymore (probably because they were being used more for pranks than for eating). To this day I'm not sure any of us can actually stomach them.
Here's a brief rundown of how the cheeseballing occurred.
https://youtu.be/62-H_n-5RQ4
One of interns took it to the next level by making a cake with an orange surprise inside.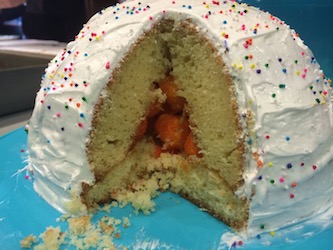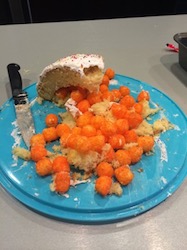 One of my personal favorites was an April 1st prank where we put 20 gallons of water (in small cups) in Doug's office. Somehow, he still made it to his desk. That's when we began thinking that Doug is, in fact, a ninja.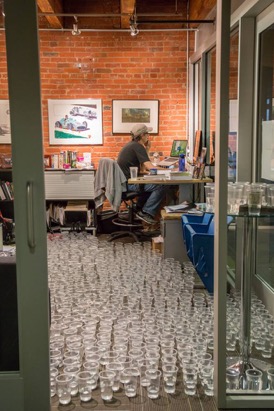 Then we captured video of how he did it.
https://youtu.be/OTB3BvUtyOA
Anne Ruskamp is an awesome member of the Beehive team who got married a couple of years ago. We didn't know what to buy her, so the team all got her the same toaster.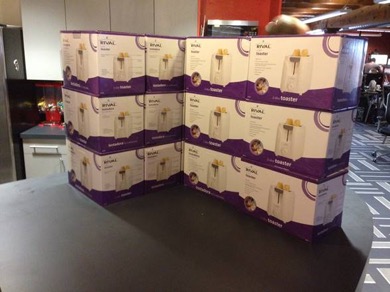 The below prank requires no explanation.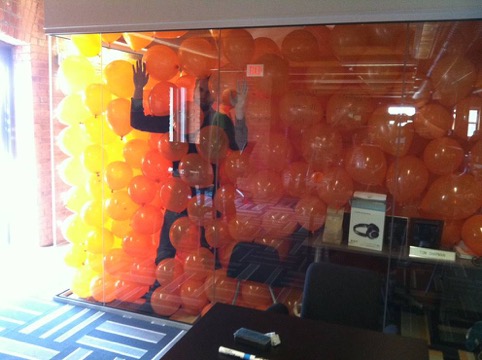 We work hard, but we also play hard.
How does your team have fun at the office?