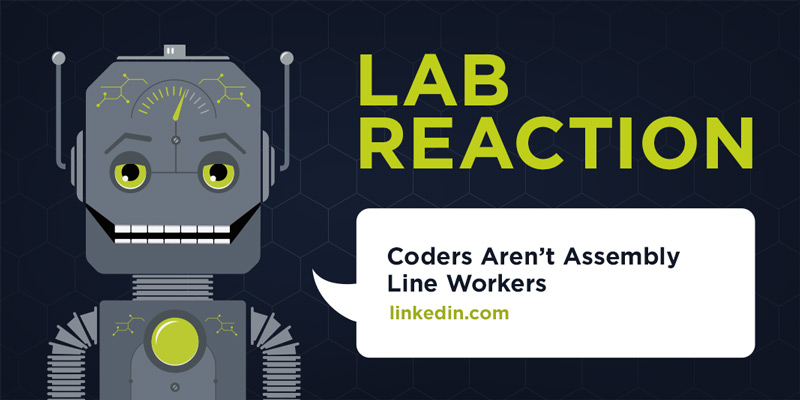 Lab Reaction: Coders Aren't Assembly Line Workers
When I first saw this article, I didn't quite know what to make of it. I can see where many aspects of what we ask programmers to do is very much like an assembly line. I agree that part of the thing that I love about working in the technical industry is the sheer variety of backgrounds that people come from. Just in our office we have former teachers, former political science majors, and even a former aspiring basketball star from Germany.
Before taking on my current role as a Product Advocate/Project Manager, I was a converting Spanish major who happened to be good with languages and fell in love with coding. I don't think there's any one prescribed path to becoming a productive contributor to our industry. I think the nature of the job needs those varied backgrounds to thrive.
Designing quality software products isn't an assembly line, it's an art. It requires layering and lots and lots of practice, but also a lot of creativity in how the art is practiced. Art isn't just one style or technique, but the collection of artists and styles. If the only art in the world was just 100 people painting like Picasso, art would be very, very boring. Without variety and creativity, we wouldn't have products like Facebook and Snapchat.