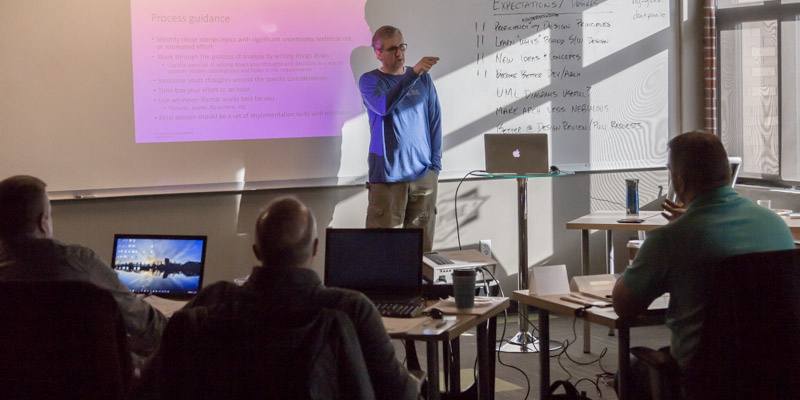 Don't Panic Labs Offers First Software Design and Development Clinic
Don't Panic Labs recently wrapped up their first Software Design and Development Clinic at their offices. The week-long course is designed to start transforming experienced developers into software engineers capable of managing complex software systems.
It was led by Don't Panic Labs employees Doug Durham, who also serves as company CTO, and software architect Chad Michel. Students from various Lincoln software companies covered advanced software development methodologies and used hands-on exercises so students could immediately practice what they learned.
"What we are teaching here is so important," said Durham. "Like any engineering practice, software design must follow certain principles if it is to be effective. Since this can include deep-dives into complex subjects, we keep the classes small to provide opportunities for discussion."
"Only about one third of the course is lecture with the rest of it set aside for exercises with real-world code," said Michel. "That gives everyone time to put into practice the topics we covered and then discuss any challenges they may have run into."
Durham added, "Our hope is that students take away from this class a better approach to software design and that they can share it with their teams. What we teach here is based on our years of experience and the success we've had with it. We want others to succeed as well."
The Software Design and Development Clinic is designed for developers who work well at adapting existing patterns, effective at completing work in a timely manner, and can communicate what they learn to other developers.
For more information about the course and upcoming dates, visit dontpaniclabs.com/education.