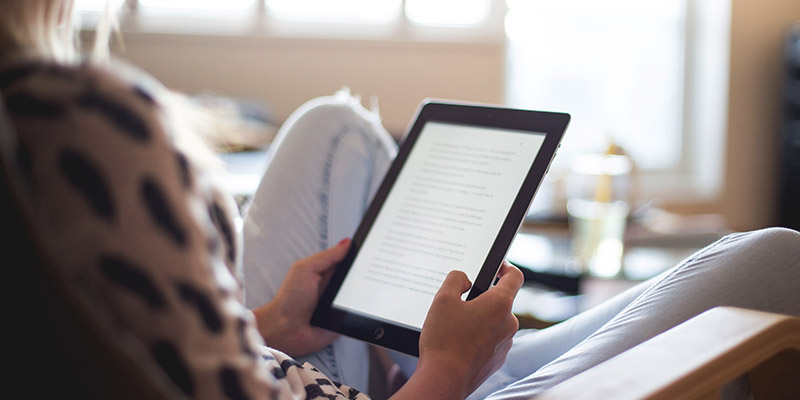 An Innovator's Reading List
Two years ago, I suggested a series of books helpful to innovators in both startups and corporate settings. Since that time, I've continued to see a flood of recommended reading lists (many with great recommended books) focused on the innovation process.
It occurred to me this last week that many of these lists, including mine, are too narrow. They focus only on innovation process and neglect to cover some other foundational concepts to successfully innovate.
I'd like to propose a little broader reading list designed to help the innovator succeed, and refresh the list with some of the resources that have most helped me personally while at Don't Panic Labs.
Software-Focused Innovation Process
Lean Startup by Eric Ries – No entrepreneur or innovator knows everything and has the right concept in the early stages. Eric consolidates a ton of field-tested practices into a method that helps you build, measure, and learn as you go.
The Art of Agile Development by James Shore – This book provides the best non-dogmatic view to practicing Agile software development. Techniques are pulled from Extreme Program, Scrum, and Agile Values, and focus on practical application to your development teams.
Sprint by Jake Knapp, John Zeratsky, and Braden Kowitz – Google and Google Ventures use this time-boxed method to organize stakeholders when designing and testing a solution in one week.
Product Strategy
Business Model Generation by Alexander Osterwalder – This book outlines a simple framework to keep your team on the same page as you define and refine the business model for your company or product.
The Ultimate Question 2.0 by Fred Reichheld, with Rob Markey – A business is flying blind unless it knows what its customers think of them. This widely-used method makes the fuzzy concept of "customer-satisfaction" concrete and actionable by measuring a specific behavior – the likelihood that a customer will recommend your product or service to a friend or college. This "Net Promoter Score" can become the foundation for focusing your company's efforts on continuous improvement, comparing yourself to other firms, or performing other effective customer interventions.
Crossing the Chasm by Geoffrey Moore – So many technology companies connect with early adopters but fail when they're unable to grow beyond that early set of users. This cornerstone work, now in its 3rd edition, is a critical read for anyone building a technology-based product or service.
Corporate Innovation Topics
Lean Innovation Management – Making Corporate Innovation Work by Steve Blank – This great blog post synthesizes a number of resources into a valuable introduction to corporate innovation with the Lean mindset. The Three Horizons of Innovation is critical for any corporation to understand and manage.
Dealing with Darwin by Geoffrey Moore – This lesser-known book focuses on corporate innovation at all stages of the corporate lifecycle.
Leadership
The Five Dysfunctions of a Team by Patrick Lencioni – A simple and effective framework for building highly effective teams is proposed in this book. Regardless of their function (e.g., project, department, or leadership), teams are the foundation for effective results and deserve extra care and nurturing.
Drive by Daniel Pink – This book provides a simple-yet-effective model of what motivates many people in many settings: Autonomy, Mastery, and Purpose.
Get a Grip by Gino Wickman – Critical for any business that's growing, this basic "entrepreneurial operating system" book incorporates key management/leadership learnings of the past years. We've implemented EOS here at DPL over the past year and have never looked back.
Sales
What Every BODY is Saying by Joe Navarro – Ever wonder what the person across the table is truly thinking during a conversation? This former FBI agent gives some very practical and actionable advice to understanding another person's non-verbal clues.
Never Split the Difference: Negotiating As Your Life Depended On It by Chris Voss – There are so many resources and conflicting strategies on negotiation that it's overwhelming. A former FBI international hostage negotiator shares his approach to negotiation (proven in the field to be very effective) and applies it different situations. I just started reading this book and are so intrigued I had to include in on the list.
Winning the Professional Services Sale by Michael McLaughlin – This book provides great insight into building a sales process where you and your prospective client collaborate at all stages. Using these methods, you can create a process tailored to each customer, deliver proposals that meet your clients' deepest needs, and set the foundation for an ongoing partnership.
Investment/Financing
Venture Deals: Be Smarter Than Your Lawyer and Venture Capitalist by Brad Feld and Jason Mendelson – Now in its 3rd edition, the book provides the best single source of information for a founder on structuring and negotiating investment deals.
Lean Startup for Finance – In the corporate setting, business plans with detailed financials are frequently assembled and evaluated when making investment decisions. But is there a better way to evaluate the investment in an innovation initiative when there are so many unknowns? This presentation outlines a novel approach to using option-style accounting for valuation and risk management.
Personal Growth
Deep Work: Rules for Focused Success in a Distracted World by Cal Newport – Given all the technology that surrounds us, it's easy to focus on shallow tasks that provide instant gratification (such as answering an e-mail to remove it from your inbox). This comes at the expense of deeper and more focused work that leads to true insights on demanding tasks. Newport provides a framework to help anyone (whether knowledge worker or manager) find a way to incorporate "Deep Work" into their schedule.
Crucial Conversations by Kerry Patterson – This book provides a very helpful method full of techniques for effectively handling difficult conversations, especially the ones you might be tempted to avoid.
Getting Results the Agile Way by J.D. Meier – Meier explains how agile methods can fuel your personal development. For anyone involved in software development, this insight can become a nature way to help yourself grow.