Better Through Partnership: National Research Corporation and Don't Panic Labs Improve Patient-Provider Interaction
Don't Panic Labs works across industries, and with clients large and small. Each of these are excited about different aspects of DPL's offerings.
For example, one unique partnership is with Connect. This company is a joint venture with National Research Corporation (NRC), a large Lincoln, Nebraska-based provider of services to healthcare facilities. Specifically, Connect helps healthcare systems collect patient satisfaction and other self-reported patient data.
The days following a discharge from a hospital or care facility are seen as one of the most vulnerable for patients. With aspects ranging from basic medical follow-up to education about prescription regimens, maintaining contact with patients is seen as essential to ensure smooth transitions. The need for effective and proactive solutions is greater than ever with increasing focus from government sources being placed on post-discharge care. And with that focus slowly turning into legal mandates, many healthcare facilities are looking for ways to meet upcoming requirements.
The Connect platform provides solutions to address the need for automated collection of patient satisfaction surveys and other essential post-discharge responses. Connect helps ensure organizations are engaging patients in an informed way about individual experiences, preferences, needs, and risks. By gathering this information, healthcare facilities are finding new and innovative ways to interact with and provide education for former patients.

But market demands required the Connect team continually improve their product and looming Federal mandates meant that quicker turnarounds for software updates were going to become more important than ever before.
NRC came to the conclusion that partnering with a dedicated team of software engineers to fix bugs, add new features, and respond to market demands in a timely manner was the only way to succeed. DPL was able to jumpstart and accelerate the development process to get new and valuable products out the door quickly.
Since broadening their scope in 2013, DPL has made their powerful blend of development expertise and startup agility available to any company needing software or new product development. Their startup type mentality allows for quick iterations that lead to effective reactions to market needs and meeting product owner expectations.
"Don't Panic Labs was launched as the development arm for our parent company, Nebraska Global," said Doug Durham, principal and CTO of Nebraska Global. "But as we began meeting with several companies, we found there was an incredible need for high-quality software and product development. One of these conversations was with NRC. When they shared their need we said to ourselves, 'this is something we can tackle.'"
After a few conversations about involving DPL in expanded development of Connect, both parties quickly realized there could be more to this than just a contract opportunity.
"The more we talked with the Connect team, the more we realized we had an opportunity to do something special," said Durham.
Another aspect of the new partnership involved putting into practice the idea of co-location. A dedicated space in the Nebraska Global offices was created to accommodate the Connect team from NRC and development staff from DPL.
"We've always had a vision of co-locating clients in our offices and utilizing our space to create a new working dynamic to the product creation process," said Durham. "With Connect, we saw a chance to make that vision a reality."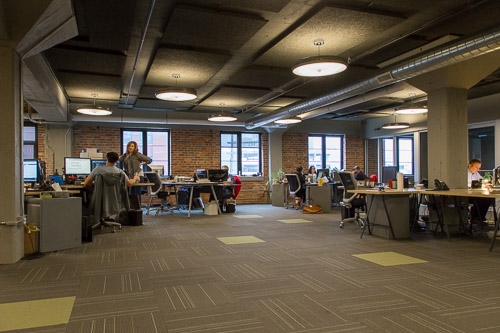 When the Connect team joined DPL in Nebraska Global's offices in late 2013, work on several new product enhancements began immediately.
"We probably spent a year and a half doing things that were in their minds the day they walked in the door," said Lead DPL Developer Santi Murtagh, reflecting on how much the team has accomplished to date.
The Agile-like approach that DPL has adopted provides for short iterations, which leads to more frequent yet incremental improvements to the software.
The DPL team has been able to get updates into the hands of clients faster than ever before and build new products for Connect to take into the marketplace. The team recently released Version 2 of a product that didn't even exist when Connect partnered with DPL less than two years ago.
"As an organization with significant vertical experience in healthcare research, NRC was looking for a technology partner to assist in the development of a new product offering," said Andy Monnich, Managing Partner at Connect. "We found that partner in Don't Panic Labs based on the access they provide to senior level technology leadership who has a record of successfully bringing new products to market and to talent that can be responsive to ebbs and flows in the development roadmap. They also met our need by being a partner that is contractually willing to participate in risk/reward of a new venture and that is willing to co-locate multiple functional disciplines to improve collaboration and ensure the product team is highly responsive to market feedback."
By providing the speed and agility to build a new products quickly, while offering quality control and testing to comply with healthcare standards, DPL has caught the attention of several new commercial clients. The Connect team continues to add new clients to their portfolio and the DPL engineers continue to drive development forward.
And that ability to move and grow quickly is really why NRC came to DPL. Software is great, but it is really just the enabling tool to unlock and grow the underlying business. Connect is growing and continues to uncover new ways to leverage its aligned interest partnership with DPL and the advantages it offers.